Onur Ertürk

Professional Tour Guide - Archaeologist

Copyright © 2008 - 2023

contact: onur@rehberonur.com

Onur Ertürk is a Professional Tour Guide, licensed from the Turkish Ministry of Culture and Tourism and he is registered to the Chamber of Tour Guides of Ankara. He graduated from Bilkent University at Ankara from the department of Archaeology and History of Art. He studied on wide range of archaeological and art historical fields of the Ancient Near East; especially, Mesopotamia, the Aegean and Anatolia. Onur joined several archaeological excavation campaigns in southeastern parts of Turkey where the richest and most commonly settled areas are and where you can find some of the oldest settlements of humanity in the world.

Onur joined the following archaeological excavation campaigns in Turkey:

Tilbes Höyük (Şanlıurfa) 1998, Kinet Höyük (Hatay) 1999, Kinet Höyük Excavations Study Season, 2000, Şaraga Höyük (Gaziantep) 2002.

Onur guides tour groups all around Turkey, in cultural, archaeological, architectural, religious, arts, and nature tours. He speaks advanced English and Turkish, also knowledgeable on the aspects of Turkey from the past and today. He has guided hundreds of tour groups in Turkey, traveled tens of thousands of kilometers together with his guests. Onur shares cultural, social, artistic and natural values of Turkey with his guests. Thanks to his education and background in Archaeology and Art History, he leads cultural excursions and visits from the Palaeolithic caves to Seljuk caravanserais, from Lycian cities to Roman theatres, from Byzantine architectural structures to the modern cities of Turkey .

He also shares unique natural beatuies of Anatolia with his guests; from heavenly Black Sea plateaus to less known East Anatolian lakes, to Mediterranean pine forests, deep blue seas of the Aegean and so on. Onur works with different licensed Group A travel agencies in Turkey and he guides groups from the USA, Britain, Canada, South Africa, South Korea, Australia, New Zealand, India and also from Turkey.

Onur also guides Turkish tour groups in some abroad countries, such as Austria, Hungary, Czech Republic, the Balkan Countries; Macedonia, Bosnia-Herzegovina, Albania, Croatia, Montenegro, also a Central Asian country Uzbekistan.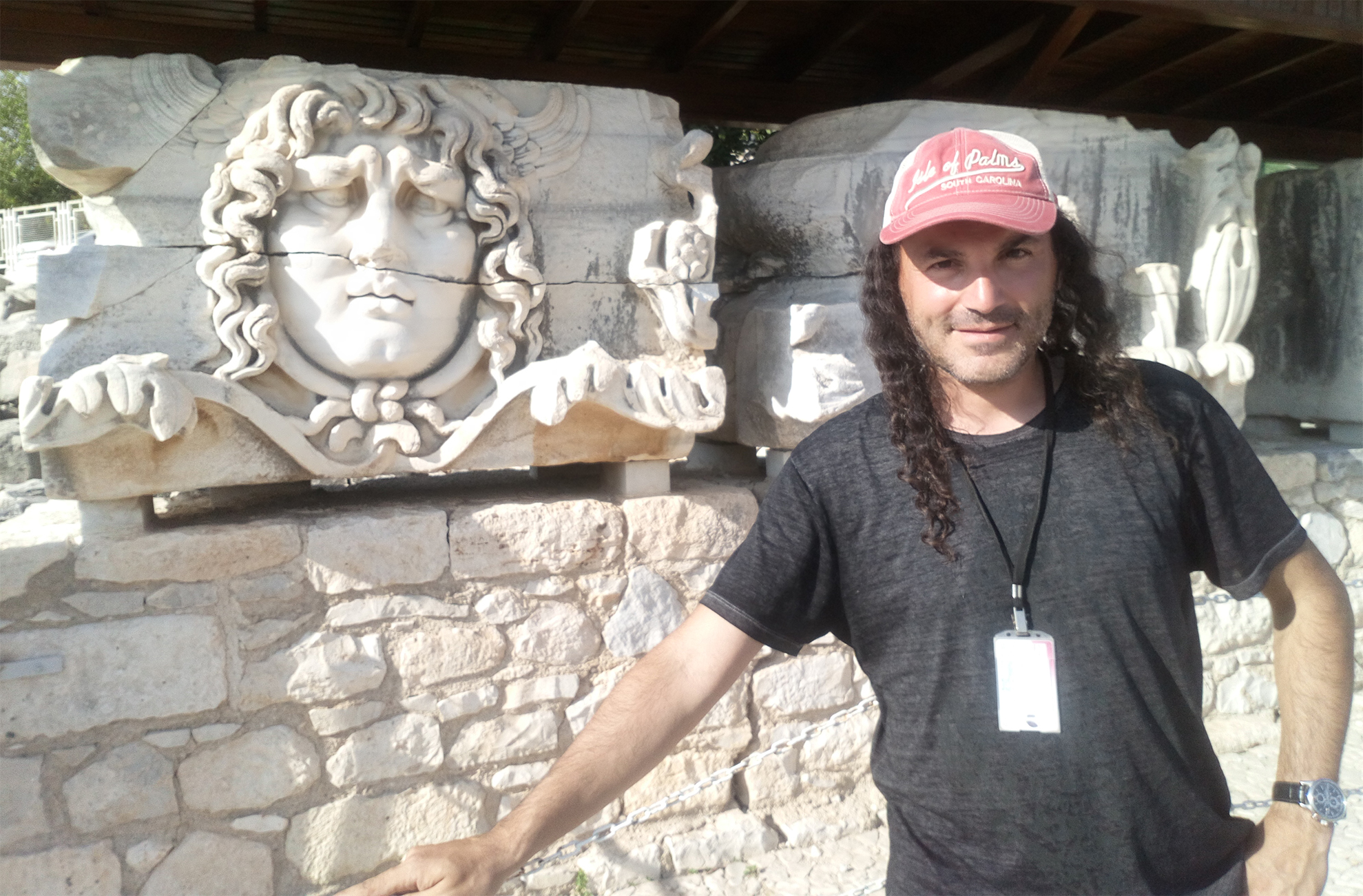 He also worked as a monitoring archaeologist in the Baku-Tbilisi-Ceyhan Crude Oil Pipeline Project between 2002-2004. He did archaeological surveys, monitoring and identifying of the archaeological settlements and artifacts on the pipeline route from Ceyhan to Sivas area, which is about 350 kms. He discovered several archaeological structures and settlements during the construction, therefore the pipeline works on the route did not harm those sites and archaeological works were carried out to rescue the items.
Onur Ertürk is also a partner of the ViHoliday & Tours company, located in Ankara, Turkey. As a Class A licensed Travel Agency, we offer archaeological, historical and cultural tours all around the country and to all destinations. We provide tailor-made tours according to your demands, mainly depart from Ankara. Click on the
link
to see our tours and get in touch with us.
Onur Erturk's book has been published
The Hittites A Journey of Culture from Past to Present.
He discusses the Hittite history, art and archeology in the light of recent scientific studies and discoveries. He proves the continuity of the Anatolian Culture from the Hittites to the present times based on the archaeological data.